Roana, Asiago and arounds
Hogazeit: the Festival
Hoga Zait® is a cultural event grown over the years and has become an important event for the residents, who identify themselves ethnically and linguistically, and for tourists, who feel involved in local history so to be sent from various parts of Italy and foreign requests for information on the new edition as early as the first months of the year. Hoga Zait: magic words or only words Cimbrian? Hoga Zait literally means "high time", "good weather" and, therefore, time to party.
Official website: Hogazait
Download the programmation
Centenary of the Great War
The Military Memorial
With its grandeur, from the hill overlooking the whole Asiago Leiten. Inside lie forever nearly 60,000 soldiers.
Visit the: dedicated page
Bunker Corbin
It impresses the bold position on a rocky outcrop overlooking the Val d'Astico to 1096 m. above sea level. The fort dominates a long stretch of the middle part of the Val d'Astico and offers sweeping views to the plateau of Tonezza and Mount Cimone characterized visible monument-ossuary.
Visit the: dedicated page
Museum of the Great War
Opened in 1974, it is presented as one of the most complete and interesting collections of materials of the First World War at the national level. The museum is located in the charming home of the former railway station, specially purchased by the city of Roanoke to allocate the numerous collections from private collections that, even today, after many years of its inauguration continue to be received.
Visit the: dedicated page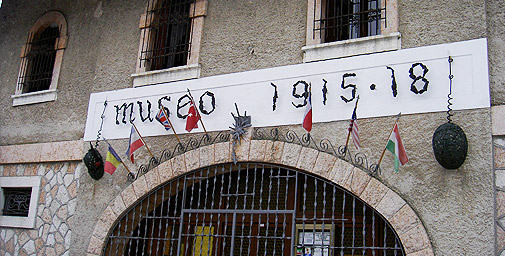 ACROPARK LAKE ROANA
Even the Asiago plateau has its Acropark. The latest in the family Acropark has already become a well known destination for lovers of strong emotions.
Visit the: dedicated page